The AWI Guide to Advanced Warehouse Management Systems
By American Warehouses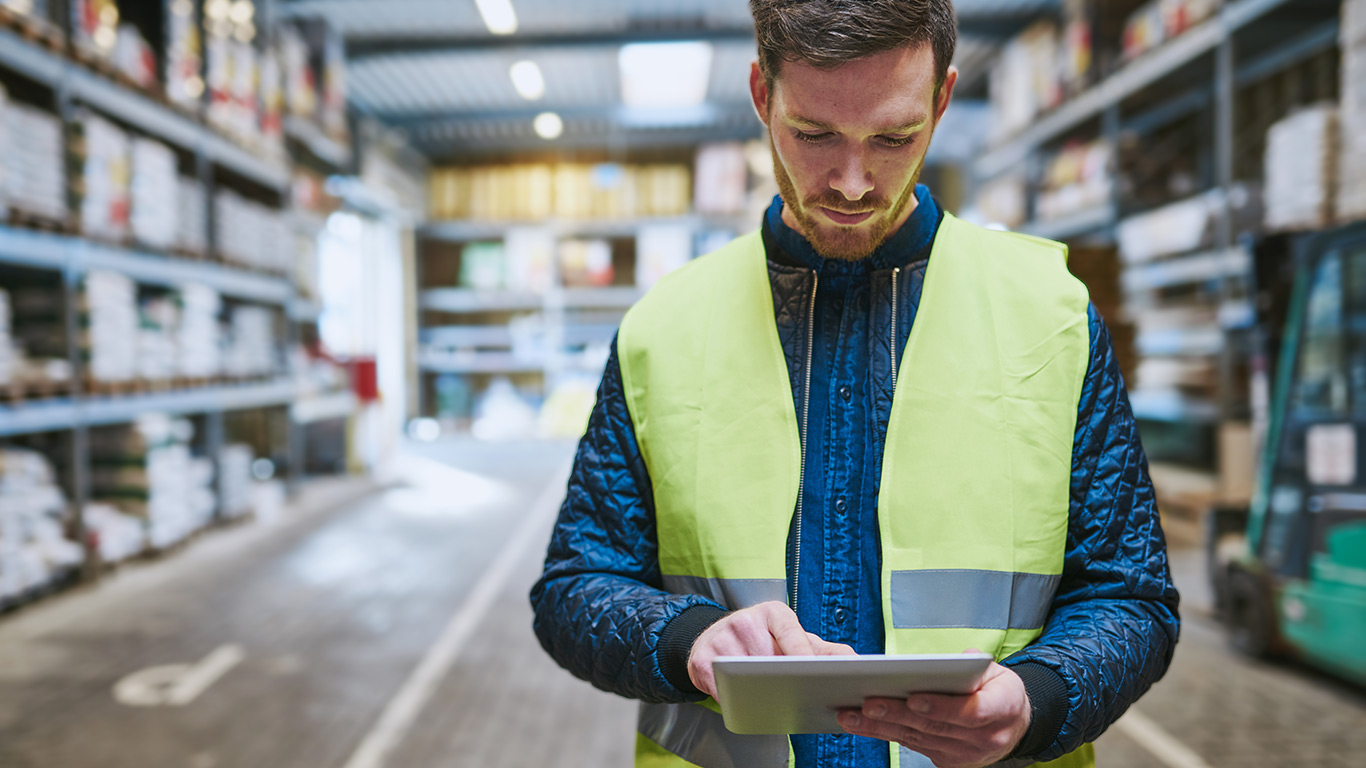 Technology has become an integral part of our lives, and has, for the most part, made them easier. Warehouse management systems (WMS)—software utilized to track, organize and direct daily warehouse activities—have simplified operations and inventory processes for management, employees and customers.
A WMS tracks inventory from arrival to departure, including its quantity. The system also assists in selecting and packing goods, managing labor, and analyzing the performance of warehouse workers.
Types of Warehouse Management Systems
There are three main varieties of warehouse management systems. The type a facility chooses generally depends on its size and whether or not it must control inventory throughout a supply chain process. If none fit the warehouse's needs, a custom-designed system can be created.
Standalone
A standalone WMS is the most basic, typically only including warehouse management features, though other supply chain functions can be added. Small businesses or companies with a limited software budget use this system.
Supply Chain Modules
Supply Chain Modules encompass warehouse management, and so much more. They are utilized to control inventory throughout the entire supply chain process, including product cycles and vendor relationships. They are also easily integrated with a facility's other software.
Integrated With Enterprise Resource Planning
Integrated With Enterprise Resource Planning (ERP) software is the solution for organizations with larger operations looking to manage inventory in the supply chain. This includes assistance with warehouse management, human resources, accounting, and more. This system consolidates an organization's other software, too.
Benefits of a Warehouse Management System
The right warehouse management system for your facility or organization provides a multitude of benefits, from optimizing inbound and outbound processes to increasing labor productivity and efficiency.
Optimize Inbound & Outbound Processes
The inbound process includes the recording and receipts of goods that need to be tracked throughout the time at the warehouse. This may include identity, quantity, and other basic information, and enables facility employees to document completed steps. The WMS keeps records of the inventory in real time from its load arrival, resulting in a smoother intake. Most systems audit a facility's square footage, so employees know where open spaces are located.
The WMS tracks inventory through the outbound process, which includes order preparation, labeling, order fulfillment, loading, and shipping. The system makes it easy to locate, identify, and ship pallets of inventory to the correct customer.
Increase Labor Productivity & Efficiency
Not only does a WMS track inventory, but facility employees. Because the cost of labor makes up about 65 percent of most warehouse facilities' operating budgets, it's important that all employees are working efficiently. Most warehouse management systems document the work performed, who performed it, and the time it took to complete it. With that knowledge, management is able to set attainable labor and performance standards for workers. Some systems can even assign jobs to employees based on proximity and skill level.
Improve Safety Conditions
The Occupational Safety and Health Administration (OSHA) Worker Safety Series Warehousing Guide states the fatal injury rate for the warehousing industry is higher than the national average for all others. In 2017, the Bureau of Labor Statistics reported 22 work-related fatalities per 100 full-time workers in warehousing. This shows just how important improving safety conditions in storage facilities is.
WMS improves efficiencies and boosts labor productivity, empowering employees to achieve higher goals. It also creates a safer environment for workers. Employees should be assigned tasks at their respective skill levels, and feel comfortable completing them. This reduces the risk of an employee attempting a task he or she may be unable to handle, and causing an accident.
Warehouse management systems can also identify the composition of products, such as chemicals. This makes it easy to identify which products should or should not be placed next to one another, preventing a hazardous incident.
Reduce Expenses
A WMS reduces wasted time, space and errors, therefore, decreasing expenses. It determines what tasks workers are best fit for, meaning jobs will be completed accurately and in a timely manner. The system also audits the building for occupied and unoccupied space, making sure open areas are filled with the correct-sized pallets. Because the software takes all of this into account and tracks products from inbounding to outbounding, there is little room for costly mishaps.
Boost Customer Relationships
While a WMS provides assistance inside the warehouse, the benefits do not stop at the facility walls. A WMS improves customer relationships before and after warehouse storage. The system makes the inbounding process more efficient, reducing wait times at loading docks. Customers will also be happier with quicker and more accurate order fulfillments and deliveries. This ensures the right goods are sent to the right customer at the right time.
How American Warehouses Leverages a Robust WMS
To provide a transparent, positive experience for customers, American Warehouses created an advanced warehouse management system.
American Warehouses Advanced WMS was customized to track data, including batch numbers, exact units, weights, inbound and outbound deliveries, and product types, at every stage. The warehouse management system ensures commercial units will be tracked from the moment of arrival on the loading dock to its departure—maximizing organization, increasing transparency, and eliminating errors as inventory moves around its 825,000 square-foot facility.
One of the few facilities in Houston providing chemical, industrial and hazardous material storage, American Warehouses developed its Advanced WMS to not only track units, but each chemical within them. This ensures proper storage and the safety of warehouse employees.
Want to learn more about how American Warehouses can help maximize your distribution operations? Get in touch today.